Our staff includes 3 veterinarians, 8 veterinary technicians/assistants, 4 receptionists, an office manager, a groomer, and a bather. Our goal at Adobe Veterinary Clinic is to create an enjoyable working environment for our employees so that they we may all get to know your pet(s) over the years.
---
Dr. Greg Heitman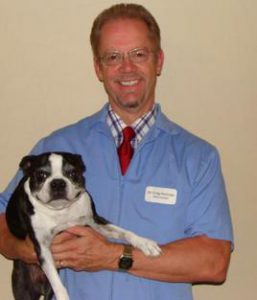 Dr. Greg was raised in Colorado and graduated in 1984 from Colorado State University. He worked in Tempe for 4 years and then purchased Adobe Veterinary Clinic in 1988. His two sons (Phil & Andrew) are following in his footsteps and keeping him informed of the latest techniques in veterinary medicine. His wife, Teresa, helps out at the clinic. He has 2 dogs, a boston terrier named Buster and a Chihuahua named Chico
---
Dr. Phil Heitman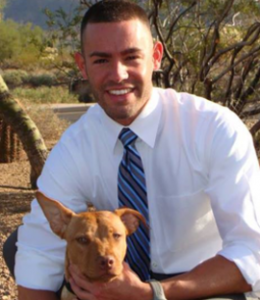 Dr. Phil was born and raised in Mesa. He grew up watching his dad help animals and always knew he would be a veterinarian. In a 2008 he graduated with honors from Arizona State University. He spent the next next 2 years as a vet tech in Seattle and Spokane, Washington. In 2010 he entered into the Washington State University College of Veterinary Medicine class of 2014. His favorite aspects of veterinary medicine include soft tissue surgery, ophthalmology, and dermatology.
---
Dr. Ryan Buzard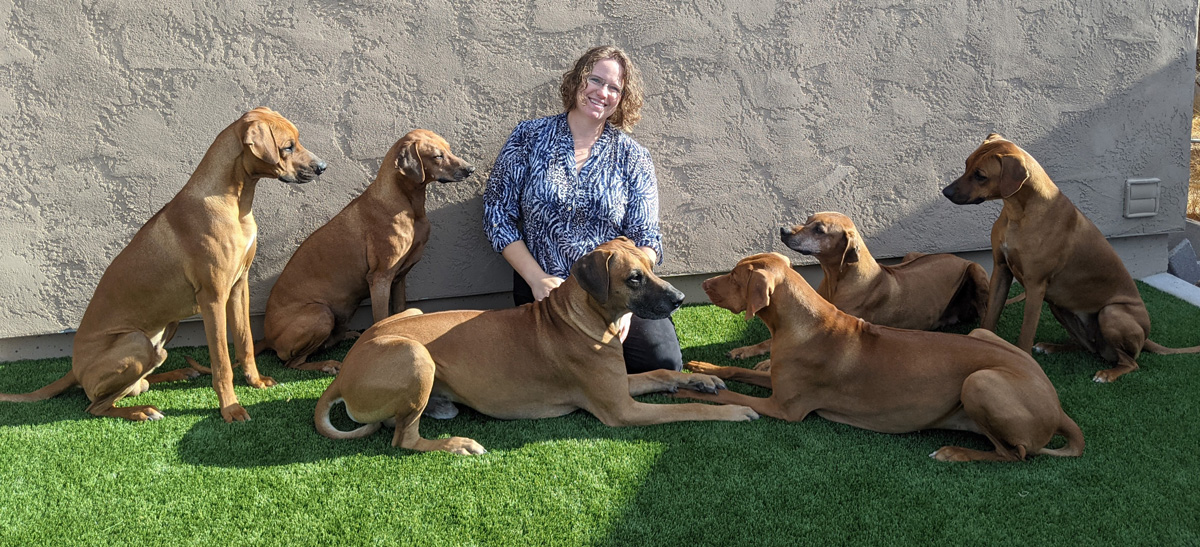 Dr. Ryan was born in Tennessee and raised in Arizona. Her love of animals started at a young age and was fostered by her family's participation in AKC dog events. She worked at Adobe Veterinary Clinic from 1998 through 2009 as a receptionist, then technician, and eventually office manager. She received a BS in Agribusiness from Arizona State University in 2003, then later went back to complete a few pre-requisite classes to apply for veterinary school. A 2012 graduate of Ross University School of Veterinary Medicine, she completed her final-year clinical requirements at Oregon State University. Dr. Ryan has spent the past 8 years practicing elsewhere in Mesa. She is excited to be returning to Adobe Veterinary Clinic, where she will continue her passion for surgery, behavior, and preventive medicine. Outside of work she is an AKC licensed judge, and enjoys spending her spare time with her Rhodesian Ridgeback dogs, her family and her friends.
---
Katelyn Burner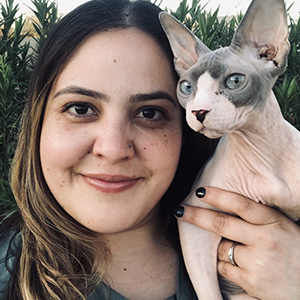 Katelyn has been with Adobe Veterinary Clinic since October 2008 , where she started as a technician. After working as a technician for 8 months, she was trained to be the office manager and has been here ever since. She enjoys spending time with her family and going up to northern Arizona to get away. She has 2 dogs and 1 cat. The dachshunds name is  Larson , a mastiff mix named Kevlar and a Sphynx cat named Roswell.
---
Susan Cunningham- Groomer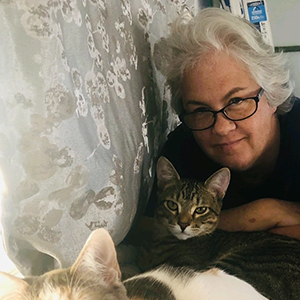 Hi! My name is Susan Cunningham and I am the groomer here at Adobe Veterinary Clinic. I have spent all my life in Michigan and have just moved here to Arizona this last year. I have been grooming since 1988 and have groomed for the same Veterinary Clinic for 24 years. I have two Spynx hairless cats name Suede and Velour who came from a breeder as kittens. I am looking forward to meeting your furry friends.
---
Max Ashworth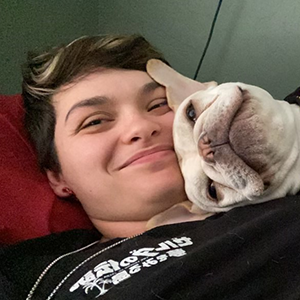 I've been working at Adobe Veterinary Clinic since December of 2019. I started out as a technician, but in October of 2020 I was moved into the surgery room to be a surgical technician. It's always been my dream to work in the animal health care business. After being in the Marines for four years, I knew I had to go right into the veterinary field. I have two animals myself; a French bulldog named Chewie, and a chinchilla named Steven Sebastian.
---
Tina Schultz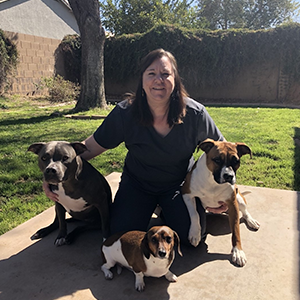 Hi my name is Tina Schultz and I've been in the veterinary field since 1994. I started out as a veterinarian technician for 15 years and now work up front as a receptionist. I have two beautiful children and a wonderful husband. I enjoy spending time with my family, watching movies, and anything Disney. I have six animals: three dogs and three cats. I love working in this field.
---
Adrianne Jennings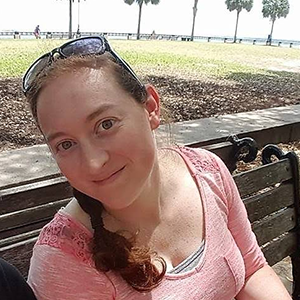 Adrianne was born in California and recently spent 10 years in South Carolina before moving to Arizona in 2019. She has been working in the veterinary field since 2015 as a veterinary receptionist for different clinics. Her love of animals started with her grandparents' farm and continued through her life. She and her husband have together adopted and rescued an animal in nearly every city they've lived in (so far), including bringing a cat home with them after living in China. In her spare time you can find her playing games with her friends and family, exploring new places, and reading a good book surrounded by her husband and 5 animals.
---
Chloe Michaels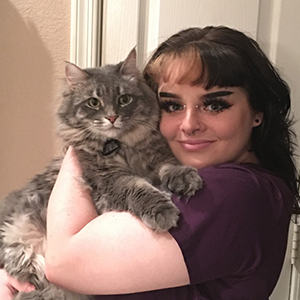 Hi there! My name is Chloe & I'm a vet tech at Adobe Veterinary Clinic. I graduated from Pima Medical Institute in 2020 with a certification in Veterinary Assisting. Outside of work, I like to make music, roller skate, & play with my cat, Hunter! He's a Maine Coon that my family rescued when we saw him stuck under a bush when he was just a baby. His favorite things are exploring outside, taking long cat naps, & licking ice cubes! I love all the fur babies that come into our clinic, & we as a team make sure that their care is our top priority!
---
Barbara Million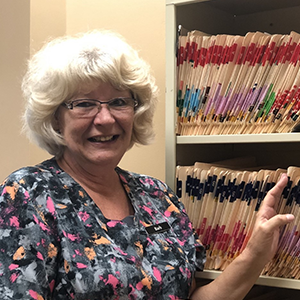 I grew up on a Livestock, Dairy, and Grain farm in Indiana. My past job career was at the Indiana State Animal Disease Diagnostic Lab with 33+ years of great experience. While living in Indiana, I was an avid deer hunter & enjoyed fishing, boating, and camping.  In 2016 I moved to beautiful Arizona & have a cat named "Smokey Jo" who keeps me entertained.
---
Brittanie Guy-Taylor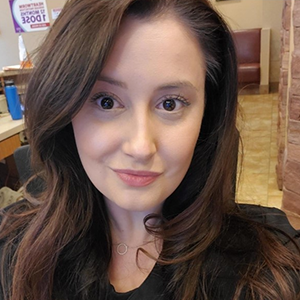 Brittanie grew up in Santa Barbara California , Before moving to sunny  Gilbert Arizona with her family in 2004.Britt enjoys spending time with her friends ,family,as well as singing in her church choir. In her spare time she also loves participating in outdoor Activities such as hiking, kayaking and sailing.
She began her journey in the industry over 10 years ago , having started with her family's veterinary clinics. Since then, she has gained knowledge In General practice, surgery and dermatology and now has found her home at Adobe.
Brittanie has a handsome cat called Tater Tot and 2 sweet pups named bug and Natty.
KBYECU!
---
Catherine Krempski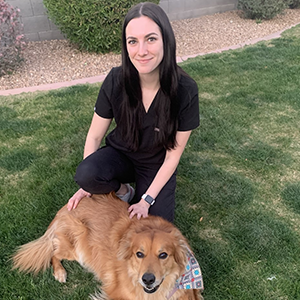 Hello! My name is Catherine Krempski! I've been working at Adobe since June 2018 and I am currently a pre-vet med student. When I'm not working or studying, I enjoy hiking with my dog, running and spending time with family. I love helping to take care of all the pets that come into Adobe Vet!
---
Lisa Camberos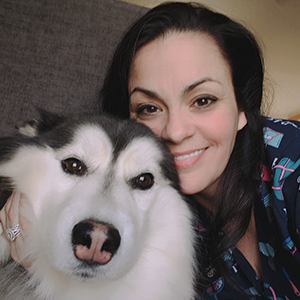 Since I was a little girl I have loved animals. I went to school to be a veterinary technician and have been one now going on 12 years.  Over the years I have worked with all kinds of animals. From horses to rabbits  and everything in between. I started with Adobe in 2018 and have been both a surgery tech and room tech. I have a great passion and love for helping animals, it always has brought me the most joy. I have a beautiful Husky at home named Zeta who is as spoiled as they come. In my spare time I enjoy horseback riding and just being a mom and wife to my beautiful family. When your pets are in my care, rest assured they are loved and cared for.